How to explain digital receipts to your granny & why green paprika is the best
.
Hi, Stefan, tell me about yourself.
Hi, I am Stefan, originally from Salzburg, Austria. My professional background is quite diverse. I studied chemistry, then moved on to drug discovery and development, and while working at fiskaly, I got a PhD in pharmaceutical chemistry with a focus on chemo-informatics and algorithm development. This links me back to fiskaly and my background in software development and engineering. 
How did you start at fiskaly?
Having established analytical thinking and problem-solving skills, I started at fiskaly initially as a software developer, helping out with automation for billing and analytics. 
Tell us about something that most people do not know about you.
The fact that most people do not know about me is that I really like 🫑green paprika🫑. Although I tried red and yellow paprika too, I especially enjoy green paprika. 
What are your passions outside work? 
I really enjoy anything science-related, like neuroscience, mathematics, and physics. On the other side of the spectrum are topics like nutrition and sports science. This combines well with my other hobby, doing sports. I am particularly fond of rock climbing, CrossFit and everything that comes with resistance training. 
All my interests are quite interconnected, as neuroscience, physics, and also nutritional science can be used to optimize sports results. I also track my own health, performance statistics and nutritional values. Since I really enjoy data analytics, this connects very well. 
What are you currently working on?
I am the Product Manager for the digital receipt. I figure out 
» where the product should go; 
» which features should be developed next; 
» what the target group is and who the target customers are.
That is currently one of the biggest challenges. We have multiple target groups, which we already know well from the fiscalization business. POS vendors are currently our main focus. By building the product for them, we can together deliver value to merchants and consumers.
At the same time, we need to consider the merchant and the consumer. They, in the end, will enjoy many of the advantages of the digital receipt. So it's always a bit of a struggle to figure out which direction is the best to take at any given moment. 
We work with hypotheses and assumptions, then test and validate them with our customers. Based on their feedback and their interaction with the product, we continue developing the best product for our customers' needs. All in all, my team builds a digital receipt product to enjoy, use and love. 
How can you explain to your granny what a fiskaly receipt is?
fiskaly receipt is our solution for providing digital receipts. Simply speaking, it replaces a printed receipt when you buy anything in a store. Digital receipts can easily be stored, organized, and found again via your phone.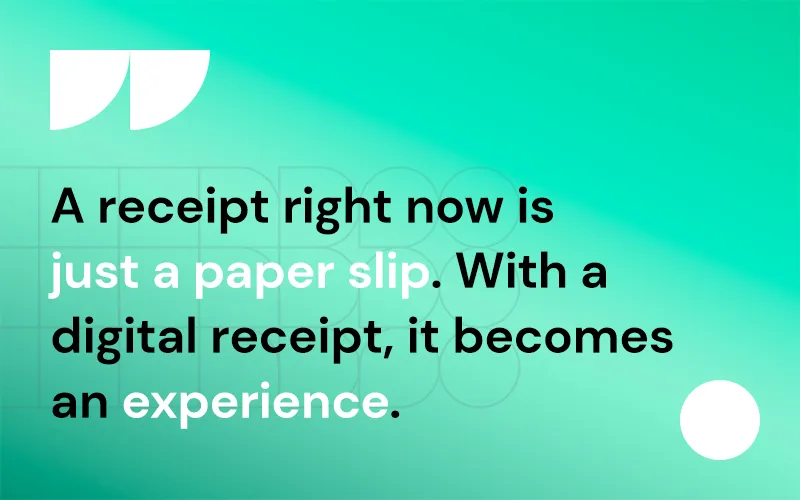 A receipt right now is just a paper slip. With a digital receipt, it becomes an experience. An ecosystem that includes the merchant, the consumer, and external partners and services that all add value to the user.
And what advantages can a customer enjoy while using a digital receipt?
There are quite a bunch. Of course, there is the environmental aspect, which each and everyone of us can directly impact by using digital receipts. Then there are the extensions with your bank account, where a receipt is delivered directly to your bank account and attached to a transaction, right after you scan a QR code. You no longer have to worry about losing a paper receipt or its paint blurring out. Digital receipts are the new standard that brings order and convenience to our lives.
What is so unique about fiskaly receipt?
What makes the fiskaly receipt unique is our focus on building an ecosystem of players impacting the user's journey. I think the digital receipt is more than just a PDF. It's about the seamless experience the user gets when shopping at a merchant who issues the fiskaly receipt. 
We do this by focusing on building a product for and with the POS vendors, and bringing it together with them as partners to the market. By getting in contact with many of the POS vendors and understanding their needs, we have a strong partner to roll out the fiskaly receipt across Europe.
Rolling out the receipt across Europe is a big goal for us, which has a strong impact on the design of our product. POS vendors should not be forced to integrate multiple services, one for each country. Rather we would like them to integrate fiskaly once, and then we grow together and expand across Europe without additional effort or development. 
From there on we are building our partner network that can be used together with the fiskaly receipt. A simple example, and in my opinion an amazing use-case, is partnerships with banks. This enables the delivery of the fiskaly receipt directly in your banking app, attached to the transaction. Thereby, you have the receipt available at all times in the exact location where you would intuitively look for it. 
Finally, we already gathered a lot of experience with our fiscalization business. All of the knowledge and insights we gained there were bundled into the fiskaly receipt, to build a highly scalable and flexible system, which can handle thousands of receipts created per second. 
What are your learnings while working at fiskaly?
When I studied for my PhD, I visited a few conferences. My professors always told me that I should be super careful not to share my ideas with colleagues as they can snatch them and publish my ideas as theirs. Back then, I kind of accepted it. 
Then I came to fiskaly and experienced a really cooperative culture of sharing ideas and knowledge, and no backstabbing at all, which I really enjoy.
What is challenging for you at fiskaly?
Before fiskaly, I was very much used to working alone and just figuring out solutions to problems on my own. I changed this approach to sharing ideas and discussing issues with my team in search of the best solution. I really enjoy working in a team, having people who I can rely on, and brainstorming together to come up with the best solution in the end. 
Another challenge for me is to step back from active product development, programming, which I was used to, and start communicating more. I leave programming to our experts and focus on figuring out the users' needs and which problems we are solving. Along with that, effective communication, in and with the team, is vital. Sharing the product vision, sharing user insights, and sharing the direction we are heading in, is a new challenge that I'm really excited to tackle.
How can you describe fiskaly's culture?
There are three things that come to my mind. The first associations are  'open' and 'friendly'. We have this family-like culture. Every day I am super happy to come to work. I really enjoy working here with all my colleagues.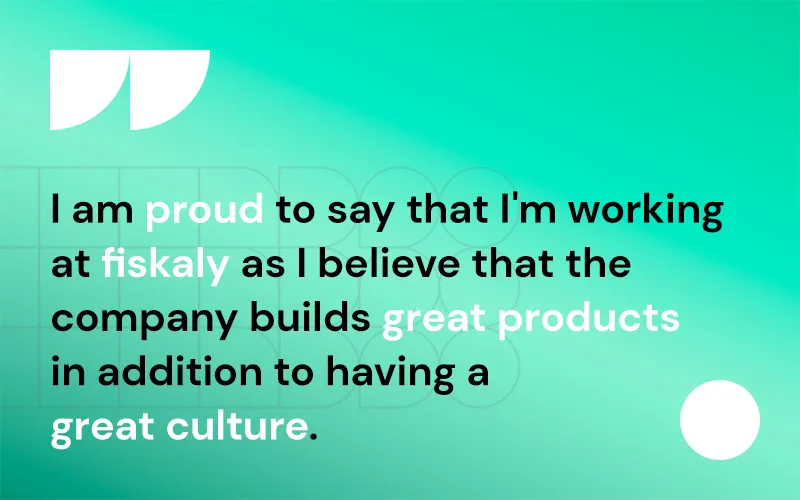 But it's not only about a great place to work. I am also proud to say that I'm working at fiskaly as I believe that the company builds great products in addition to having a great culture.
The 3rd one is an opportunity to learn and grow. I like a good challenge and what I really enjoy in our working process is that we know the "why" and the "where", but sometimes we don't know the "how". We have to figure this out on the go, be agile, come up with unique solutions, and always consider the user's response to continue improving and doing the best we can. We are not facing obstacles or problems, we are encountering learning opportunities.
What advice do you have for someone in your field, applying for a job at fiskaly?
If you are an ambitious responsible person, there are definitely plenty of opportunities for you at fiskaly. We always look for people who are proactive and motivated. These people are given great opportunities here. All in all, if you are willing to work in a great culture with a lot of challenging tasks, there is plenty of room for you to grow at fiskaly.